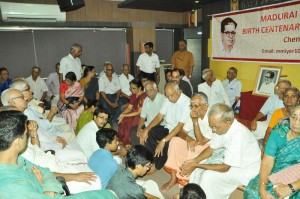 A hall in Luz was jam packed on Thursday evening last to listen to a recording.
Just recordings but that of a maestro.
At the Arkay Hall in Luz, rasiukas of the late Madurai Mani Iyer, a great vocalist gathered to listen to a concert he had given in the city on the occasion of Sri Ram Navamai.
His pieces were played on a modern player via the hall's audio system on April 12 and it made listening a great pleasure. The hall was packed and rasikas had to stand and make do in the space outside.
The concert lasted for over two hours and some of Mani Iyer's popular pieces were played.
This was organised by the MMI Birth Centenary Committee. This is the maestro's centenary year and fans have been hosting such listening sessions at various places across the city.
<< Share your anecdotes here >>