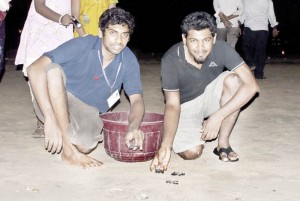 The endangered Olive Ridley sea turtles come to the Chennai shore to lay their eggs. The nesting season starts around January and continues until the end of March. These nests face many hazards like poaching by humans to attack by dogs.
The Students' Sea Turtle Conservation Network (SSTCN), a voluntary organisation has been actively involved in protecting these endangered turtles for over 24 years in the Neelankarai to Besant Nagar coastal region.
Now, it also has a base in Srinivasapuram, a seaside spot in Foreshore Estate area. And you too can be a volunteer in this project.
Volunteers of this organisation patrol the beaches during the night from the Napier Bridge to the Adyar estuary end to relocate the nests. The hatchery for the Marina stretch is located at the extreme end of the beach, close to the Adyar estuary.
"Here we have made an enclosure on the shore and bury these eggs till they hatch," says Akila a senior volunteer.
This keeps the eggs safe from dogs and human hands for the next 40 days, says S. Vinod another volunteer and a resident of Mandaveli.
When the eggs hatch into baby turtles they are safely returned into the sea, he adds.
"On a day we release nearly 150 to 200 baby turtles," says Vinod.
"This season, our hatchery has 77 nests of which 35 have hatched and been released into the sea," says Akila.
The hatchlings are released daily in the evening after 7 p.m. so that the birds don't poach on them, she adds.
The Forest Department has issued identity cards to volunteers.
"These cards come in handy when we take our night walks to collect the eggs. The police are always on patrol here and everytime we come across them we have to present them a talk on our work. Sometimes they even join us in collecting these eggs," says Vinod.
The local fisherfolk also help the NGO. "Whenever they spot a nest they inform us and we go and collect them," he adds.
Those interested in visiting the hatchery or wish to volunteer can contact Vinod on 94456 10986, Akila on 99403 00200 or Arun on 97898 64166. You can also log on to www.sstc.org for more information.