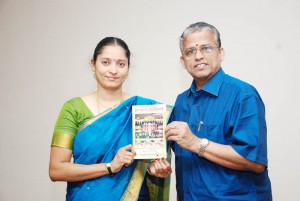 "Autism Arivom", a book on autism spectrum disorder by Dr. A. V. Srinivasan was released on April 21.
R. Palanivel, Honorable Justice, Madras High Court, released the book and G.A.Rajkumar, IAS, Additional Chief Secretary to Government, received the first copy.
Dr. A. V. Srinivasan has authored books on topics like Epilepsy, headache, stroke with an aim towards dispelling myths and guiding patients towards understanding and managing their condition effectively.
This book is the latest addition to his medical books and is aimed at educating and guiding the caregivers on Autism.
Lakshmi Mohan, freelance Tamil writer, has assisted Dr. A. V. Srinivasan in the book. She has translated the book in Tamil language.
This book helps parents deals with autistic child and modify their behavior in their families, saya Lakshmi Mohan.
The authors Dr. A.V.Srinivasna and Lakshmi Mohan are based in R. A. Puram.
This book explain the symptoms, diagnosis, causes, sleep pattern of autistic children, food habit, toilet training, education, therapies, prevention and lifestyle changes and recent research results. It also has a question and answer section, says Lakshmi Mohan.
The book is published by Vanathipathippakam. It is priced at Rs.100.
Copies of the book can be got from Lakshmi Mohan Ph: 99621 29333.