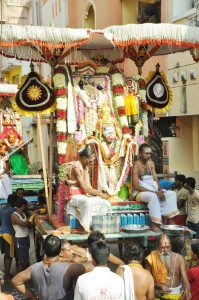 Adhikaara Nandi procession was held at Arulmighu Porkodi nayaki udanaya Karaneeswarar Temple in Bazaar Road on April 29.
Chithrai perunthiru vizha is celebrated at this temple till May 17. The vizha began on April 27 with the flag hoisting ceremony. Following are the important highlights of the festival.
May 1: Rishaba Vahanam procession at 8.15 p.m.
May 3: Ther procession at 9 a.m.
May 6: Thiru Kalyanam at 8.30 p.m.
Cultural and dance programs will be held here daily from 6 p.m. onwards.