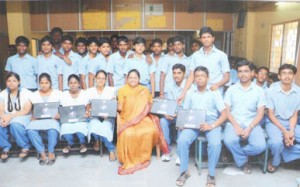 The Plus Two students of Savitri Ammal Oriental Hr.Sec.School, Mylapore received their laptops from R.Rajalakshmi, Mylapore MLA on May 18.
The event was held at the school's premise. The MLA distributed the laptops and addressed the students.
This is part of the Chief Minister of Tamil Nadu J. Jayalalithaa's welfare scheme for students.