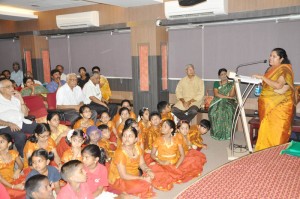 Dr. Sudha Raja presented a lecture demonstration on late music composer-director M B Srinivasan and his contribution to Indian choral music at Arkay Convention Centre on May 13.
Sargam – children's choir, Akshayam – choir for adults and children from SOS children's village sang Indian choral music after the lecture.
RT Chari, TAG Group of Companies, Senior Vidwan Rajkumar Bharathi were the chief guests for the event.
The presentation was convened by Dr. M A Bhageerathi.