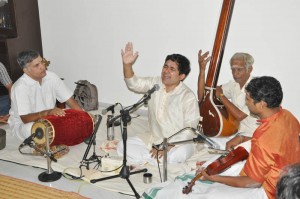 Oli Chamber concert was held  last Saturday.
Prasanna Venkatraman presented a vocal concert on the theme Vanam (forest). He was accompanied by Shertalai Sivakumar on the violin and Poongulam Subramaniam on the mridangam.
The concert was held at the residence of Savita Narasimhan in St. Mary's Road.
Oli is organising such concerts through out the year. The next vocal concert will be presented by Ramakrishnan Murthy on June 3.
For more details contact the team at 98400 89030 or email to olichamberconcerts@gmail.com.