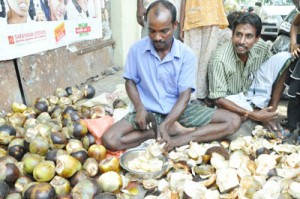 The temperature continues to hover in the 40s.
41 degrees. 41.5 degrees. 42 degrees.
Today, the summer heat waves began to hit you as your travelled on bikes or in autos as early as 11 in the morning.
Even the busy mada veedhis around Sri Kapali Temple were deserted after 1 p.m. A pandal erected outside Sri Velleeswarar Temple on South Mada Street created an oasis of shade under which hawkers had some respite from the suffocating heat.
By 2 pm the sea breeze had set in and things got a little better.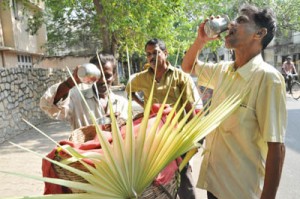 In many places, besides hawkers who offer tender coconuts, there were men who sold palm fruits or nungus as they are called.
Srirajendran sells nunjus at a nook off Venkateswara Agraharam, Mylapore. He gets them from Vellore, he said. You get four fruits for ten rupees.
Elsewhere, sale of palm juice ran fast as people down a glassful. A sombu costs Rs.10. Bangaru Naidu was seen selling the juice he sources from Madhavaram.
Clearly, there are many people who also deal with the summer heat by relying on traditional fruits and juices.
<< You too can share your summer photos shot in Mylapore area with us – we can post them here if you email them >>>