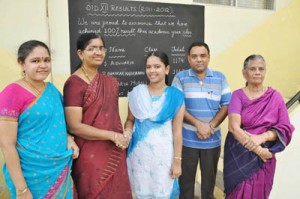 Results of the Plus Two exams held in Tamil Nadu were made public on May 22.
All students sourced their results in terms of marks from the Internet. Hence, most schools in Mylapore wore a deserted look.
This was the scene when we dropped into Rosary Matric School for Girls, San Thome. The same was the case at St. Raphaels Girls School, San Thome.
Later in the day, it was clear that students from the districts had got the top ranks.
There were no top rankers from any of the neighbourhood schools.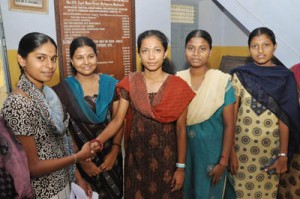 On Wednesday some of the students and their parents visited the school and interacted with the teachers and principal.
Photo captions: Above – Vice – Principal of Sir Sivaswami Kalalaya, Mandaveli with the school topper, S. Aishwarya and her parents.
Left – Students of Lady Sivaswamy School congratulate the school topper, K.  Swetha seen in centre.