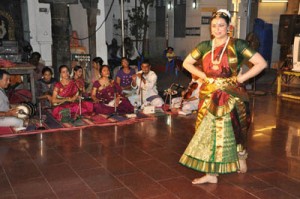 Priyadharshini Rajkumar, disciple of Padma Subrahmanyam presented a Bharatanatyam recital on May 8 at Sri Kapali Temple. Priyadharshini is a resident of Mylapore.
This was part of the Vasant Utsav –  series of cultural festival organised by Saraswati Educational Cultural and Charitable Trust.
Cultural events are held here daily till May 13 from 6.45 p.m. onwards.