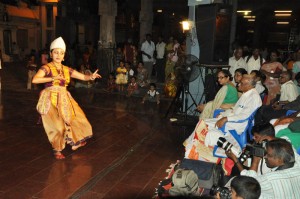 Anwesa Mahanta, disciple of Bayanacharya Ghanakanta Bohra – Sattriya dance presented a dance recital during the Vasant Utsav, cultural festival held at Sri Kapaleeswarar Temple, Mylapore.
This was organised by Saraswathi Education Cultural and Charitable Trust.
Daily there will be carnatic music and dance from 6.45 p.m. onwards. The festival will be held  till May 13. Open to all.