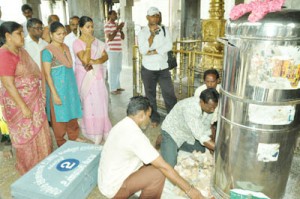 On June 25, the regular cash-counting session at Sri Kapaleeswarar Temple was held. This facilitates the counting of all donations made by devotees at the hundials inside this popular temple in Mylapore.
The counting session was held at the mandapam inside the temple.
About 25 volunteers, both men and women were involved in counting the cash.
Police were deployed here  to provide security.
Meanwhile, D. Kaveri has taken charge recently as the new Executive Officer here at his temple.