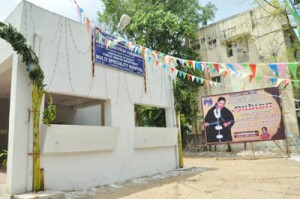 The photo is of the shell of the proposed Chennai Corporation hospital on C. P. Ramaswamy Road, Alwarpet.
This week, chief minister J. Jayalalithaa launched a number of projects for the city and the hospital was one such.
The civic body plans to make this a multi-speciality hospital.
Once an abandoned market place and then a cement godown, the hospital project was initiated by Mayor Subramaniam of the DMK during his tenure.
It was left unattended for some time.
Now, the place will have to be full equipped and staffed before it is open to the community.