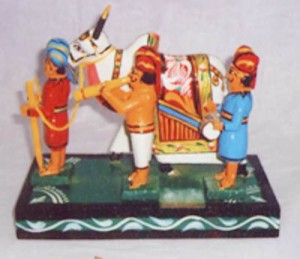 EXHIBITION / SALE
G. R. Handicrafts hosts an exhibition of Rajasthan paintings, Orissa palm leaf paintings, rosewood, stone and silk paintings at 281, Sankara Hall ,TTK Road, Alwarpet. On till June 18. Ph: 98842 57400.
A crafts festival by Thavish Handicrafts is on at C.P. Art Centre, Alwarpet. On display are silk and cotton saris, carpet, artificial vegetable jewellery, painting, tops and dress materials. On till June 19. Open to all.
Samasta boutique located at C. P. Ramaswamy Road has organised an exhibition of handcrafted silver, semiprecious jewellery starting from Rs.450. On till June 16. For details log on to kayelstudio.com.
COMPETITION
Gandhi Peace Foundation located at 332, Ambujammal Street, Alwarpet is organising an open book exam competition on Mahatma Gandhi "An Autobiography – The Story of My Experiments with Truth". Students from classes 6 to 12 can register. Call 2499 3839 / 99624 79005.
Harikesanjali Trust is conducting a Carnatic music competition on Kritis of Harikesanallur Muthiah Bhagavatar on June 24 at Narada Gana Sabha hall at 9 a.m. It will be conducted for two different age groups, 13 to 17 and 18 to 25. Last date for registration is June17. For details call 98403 98616 or email to bharatiln@yahoo.com
WORKSHOP
Pappus Academic and Cultural Trust supported by ABHAI is organising a Natya Sastra workshop, covering all 36 chapters by Dr. Pappu Venugopala Rao.
This will be held from July 9 to 14 from 9 a.m. to 12.30 p.m. at TAG Centre, TTK Road.
Participants will get free full Sanskrit text of Natya Sastra PDF, 4 volumes of Natya Sastra of MM Ghosh with English transliteration, translation and Abhinavagupta's commentary as PDF and Abhinaya Darpana English translation of MM Ghosh as PDF. Contact 2499 4751 or email to pappuji@hotmail.com. Registrations will be accepted on first cum first served basis.
BOOK RELEASE
Tulika Bookstore is launching its latest book 'The Sweetest Mango' at Vanilla Place, R.A. Puram on June 9 at 10.30 a.m. This is a children picture book and is priced at Rs.135. For more details call 2433 1639.
ARTS / DANCE / YOGA
Inauguration of first anniversary celebration of Malar Cultural Association, Mylapore on June 9. The guests are V. Kalyanam and Ravi Shankar. At 5 p.m. at Sri Kapaleeswarar Temple, Mylapore. Call 98841 54999.
Athma Laya has organised a dance and meditation session for women. Prior knowledge of dance is not essential. There is no upper age limit. Classes are being held at R. A. Puram. For details contact 98849 53013, or log on to www.athmalaya.in
A weekly yoga programme will be on at Samskrita Bharati Hall, 5, 7th Street, R.K. Salai, from June 10, at 7a.m. Open to all.  Exclusively for women, every Wednesday at Mylapore Club, 39, Luz Church Road, on June 13, at 10.15 a.m. Contact: 2432 8087/90947 54234.
RELIGIOUS
Devotees Seva Trust is organising the 119th Jayanthi vizha of Sri Chandrasekharendra Saraswathi Swamigal at T. V. R. Subbi Chetty, Vasantha Mandapam, Chitrakulam, Mylapore. On till June 14. For details contact 94440 87093.
SEMINAR
Vidiyal Charitable Trust has organised a seminar on 'Manikkodi Revisited' in the presence of Justice S. Natarajan on June 10 at 6 p.m. at Srinivasa Sastri Hall, Luz, Mylapore.
FILM FESTIVAL 
A Portuguese film festival will be held at Russian Centre of Science and Culture. This is organised by Indo Cine Appreciation Foundation in association with the Instituto Camoes, Lisbon and Embassy of Portugal. On till June 16. For details contact 2499 8060.
FOOD FESTIVAL
Cream Centre Restaurant in R. A. Puram is having a baked food festival. On till June 20. Contact 4281 5777.
Duchess Restaurant is having a steak festival. On R. K. Salai, Mylapore till June 17. Ph: 2499 6762.
Hotel Raintree is having a Mango festival at St. Mary's Road, R. A. Puram. On till June 30. Ph: 4225 2525.
Mahamudra is organising a Mukkani Thali festival, a four-course meal including mango, jackfruit and banana, from 12.30 to 3 p.m. at Luz Church Road, Mylapore. Ph: 4353 5555.