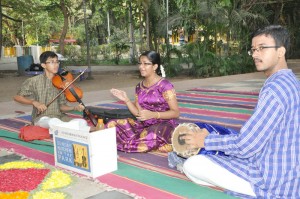 13 year old Varshini K, a student of The Hindu Senior Secondary School, Adyar presented the mikeless Kutcheri on June 3 morning at the Nageswara Rao Park in Mylapore.
She was accompanied on the Violin by T. Kishore and on the Mirdangam by Karthik.
This is the 7th year that Sundaram Finance has been organising the monthly mikeless Sunday Kutcheri in the Park.
The idea behind the Sunday Kutcheri in the Park is to promote young musical talent below the age of 15 years.
For audition call 94450 34557 or 2852 1181.