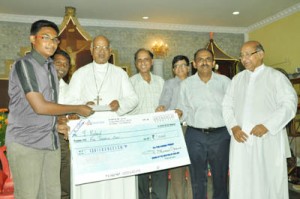 The community at Our Lady of Visitation Church on St. Mary's Road in Raja Annamalaipuram celebrated the success of students of this parish who had excelled in the recent Board exams.
On Sunday, June 25 the community hosted diocese Archbishop Dr. A M Chinappa who gave away cash awards to students of this community who were ranked the top three, in the Plus Two and Std.X exams.
The manager of the local Canara Bank sponsored a cash amount of Rs.20,000, said parish priest Fr. Thomas Simon.
Cash totalling Rs.1,70,000 was distributed as awards to the poor students, from the Catholic and from other communities.
The donations were raised by the parish people and members of St. Vincent de Paul Society here.
The community then celebrated the 75th birthday of the Archbishop who was in their midst.