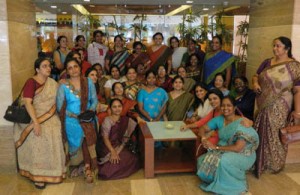 About 30 students of the 1982 batch from Rosary Matriculation Higher Secondary School has a get together on June 11.
The group met up for lunch at The Residency, T. Nagar.
"All of us were residents of Mylapore when we were students, " said one member.
"The joy and happiness could not be contained and the restaurant was just a scream." It was also a time to walk down memory lane, to talk about times spent in the Rosary classrooms and on campus and to let the hair down a bit.
The group has created an account on Face Book. Go to 'Rosarians'82.'
– Reported by Reshma Sujith Kumar
Reshma Sujith Kumar is a resident of South Beach Avenue, 2nd Street, M.R.C. Nagar.