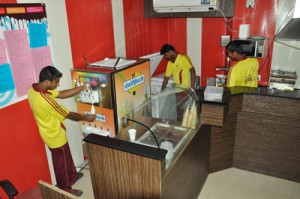 Cream and Crisp is a new ice cream parlor and eat-out that has opened in Sullivan Street, San Thome.  This swank, cozy parlour can seat 30 people.
It serves a variety of softies, sundaes, milk shakes and snacks like toasts, French fries, burgers and wraps.
Cream and Crisp was started by Sahana a resident of K. K. Nagar.
She is BCA graduate and her interest to start her own business led her to open this place, says Ritchie Damian, her brother.
Damian manages the place since he is a resident of San Thome.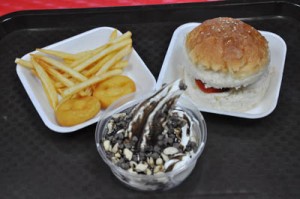 This food place targets students since there are 5 schools in this area.
Cream and Crisp also offers home delivery. Party orders and take aways are also offered.
Open from 10.30 a.m. to 10.30 p.m. on all days of the week. At 9/1, Sullivan Street (adjacent to Monfort School), San Thome. Ph: 4217 3838.