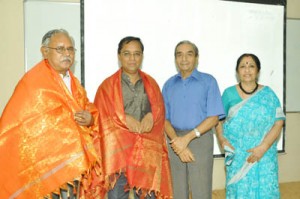 For 20 years, a small group interested in the music and the films of Tamil cinema of the 50s and 60s has hosted events for likeminded people to soak in.
 Vintage Heritage marked this milestone in its life with a special programme on Sunday, June 24 evening held at a hall in the P. S. School campus in Mylapore – playing the film songs and film clips which featured the hugely popular singer of yore, Jayalakshmi of the Radha-Jayalakshmi duo.
The event was presented by popular TV and film artiste, Revathi Sankkaran, a Mylaporean. She presented tidbits and backgrounders on the song, the film or the music and on the singing with the focus on Jayalakshmi.
She said that the duo, who are cousins are now in their 80s and live to themselves, not keen to be at public events. Jayalakshmi alone featured in the film songs presented this evening.
A set of audio songs were played first and then, a series of video clips of the songs.
Over two dozen songs, some popular some less known were played to an audience of about 70 people.
Surweswaran, a retired bank official who is passionate about vintage Tamil cinema and is the key man behind Vintage Heritage said the theme for the Sunday's event was chosen six months ago and that he had to work painstakingly on it.
He and his colleague at Vintage Heritage, Sundar were honoured with ponnadais by Revathi Sankkaran and her husband.