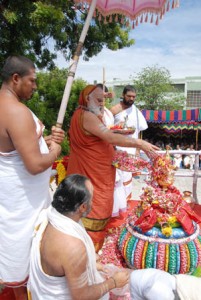 The kumbabishekam of the temple in the Sringeri Jagadguru Pravachana Mandiram, R. A. Puram was held on June 29 morning in the presence of the Sringeri Jagadguru who is on a tour of the city.
Over 3000 people took part in this event held in a campus located in Mandaveli in Raja Annamalaipuarm.
Devotees were seated in the hall. Men on one side and women on the other.
The sankalpam for the kumbabhishekam took place and the swamiji performed pooja to three images. There were three sannadhis.
Swamiji performed pooja from inside the sanndhi. Firstly to the image of Sri Vidhya Ganapathi, then, to Sri Saradambal and then to Sri Adi Shankarar.
The sannadhi's entrance were decorated with chamandi flower garlands.
Milk, honey and dry fruits were used in the abhishekam. Flowers were also used for this pooja.
Later His Holiness offered prayers and neivedyam to the images.
All the three images were garlanded. The image of Sri Saradambal was decorated with garlands and kasu malai.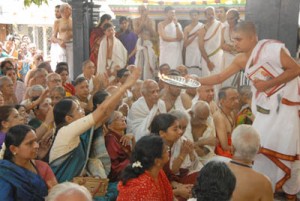 Then the swamiji climbed a staircase to perform the kumbabishekam.
He performed poojas here by offering kalasabhishekam and flowers. Then, the kumbahisheka teertham was sprinkled on the devotees along with the flowers used for the kumbabhishekam.
People from neighbouring apartments stood on terrace-tops and balconies to get a glimpse of the event.
Everyone was given teertham and fruit as prasadam. Then the devotees were led towards the prasadam queue at the Sarada Apartments campus next door.
Here they were given packaged prasadam containing tamarind rice, potato chips, curd rice and sweet.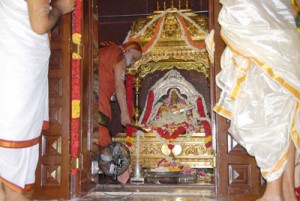 Public darshan of the swamiji followed.
For a detailed schedule of his programme in R A Puram click here.