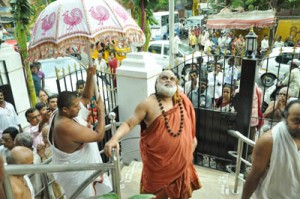 His Holiness Jagadguru Sri Bharati Tirtha Mahaswamiji of Sringeri, camped at the 'Tattvaloka' office in Alwarpet on June 25 and 26.
This was yet another stop in his tour of Chennai which started on June 14.
He was greeted by the concert of K. Satyanarayana who gave a keyboard performance.
His Holiness was received with purna kumbam and was taken to the auditorium. There was a prarthanai song.
Brahmasri Krishnamurthy Sastrigal rendered the Swagatha Patrika.
T. R. Ramachandran, the publisher and editor of Tattvaloka magazine, gave the welcome address.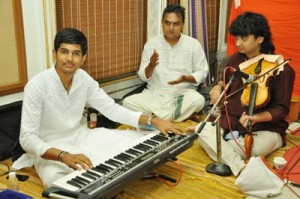 In his address he said that, Swamiji is the chief patron of Tattvaloka and every issue of Tattvaloka has a message from him.
Ramachandran symbolically, gave Swamiji two lotuses, to make an offering of the Tattvaloka building.
A plaque was opened by His Holiness to commemorate his visit to Tattvaloka.
Then, His Holiness presented the July 2012 issue of Tattvaloka, to A. Krishnamurthy. Tattvaloka is a spiritual monthly English magazine of Sri Sarada Math Sringeri.
Then, the Swamiji rendered the anugraha bhashanam. In this he stressed the importance of  nishkamakarma. He said that man has to dedicate the fruits to his actions, to God. He quoted from The Ramayana, Sastras, and his Gurujis.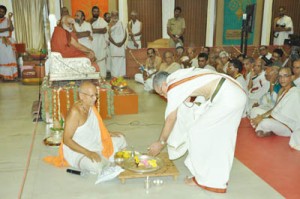 There was also a vocal music rendered by K. Gayathri.
Later the Sri Sarada Chandramaoulisvara pooja  was performed by His Holiness to accompaniment of vedic chanting.
Arrangements for the devotees to sit and watch the programme on-screen,  were made at the basement of the building. There were about 40 men and women volunteering for this occasion.
There was a display of books, CDs and photos of Sringeri Math.
His Holiness gave darshan to devotees on June 26 in the morning.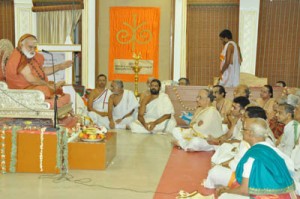 The devotees were guided by the volunteers, to have a darshan of His Holiness and receive his blessings.
Prasadams were distributed. There was pada pooja and bhiksha vandanam.
His Holiness is scheduled to arrive at R. A. Puram on June 28. Click here for more information.