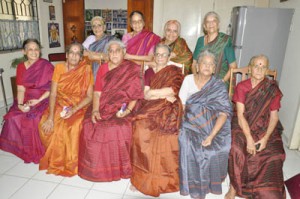 This was quite a party. Women in their 70s having a great time at a house on Warren Road, Mylapore with one intention – to relive their school days of the 1950s.
The day – May 30. The 1950s batch of SriRangam Girls High School, Srirangam, Trichy had been meeting off and on but today, their number – 13 – was big. Playing host was Kalyani Raghavan.
The alumnae, now home-makers, were aged above 75 years. Some of their daughters and daughters-in-law tagged along for this reunion.
It was a day to rewind.
The school had classes upto SSLC and, most of them completed it and were married thereafter.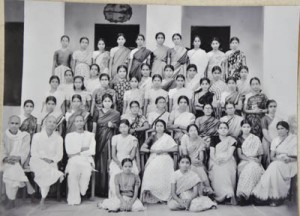 Eventually, they had to move out of Trichy due to family commitments, and lost contact. Seven years ago, they tried to contact the other classmates using the phone numbers they had. Last year, they had got together at Kalyani Raghavan's place to celebrate, by cutting a cake, on the completion of 75 years of life.
Kalyani Raghavan met P. Padma at a concert, ten days ago. One contact led to the other.
R. Santha Sampath from Pune was flying in but could spare only a few hours. So Kalyani call the rest of the group and the meeting was on. Lakshmi Ramachandran from Mumbai, Padma Raghavan from Bengaluru  also flew into Chennai. P. Mrinalini, a retired Assistant Collector now living in Guwahati sent an emotional letter. It was read out, aloud.
The women looked back at their life in 1950s and shared their pleasant memories. They remembered their teachers, classmates and the fights and patch-ups among friends. The snacks like kamarkattu and panju mittai that they had after school hours.
Lakshmi Ramachandran sang Sai Baba's bhajans and everyone joined in. Kamala Jagannathan sang songs on Lord Ranganatha. Kalyani Raghavan presented a common patterned saree to all the guests.
Said Hema Narasimhan ( of the 1958 batch) and a Mylaporean, "This was a wonderful meeting. Very memorable."
The women stayed on till tea. "Suddenly we had become 16 year-old girls and there was a high energy. We thoroughly enjoyed the reunion. It was a celebration of our friendship and we would cherish it more if the frequency and strength of this reunion grows." said Kalyani Raghavan.
Kalyani can be reached at anupama1110@gmail.com.