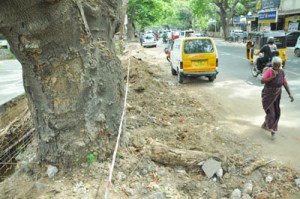 The Chennai Corporation has been laying storm water drains in various parts of the city.
The work at Alwarpet began at St. Mary's Road and C. P. Ramaswamy Road recently.
In the process of laying the drains, two trees at St. Mary's Road were cut down.
The residents protested against this. The officers stated that one of the trees was blocking the construction of the drain and the other has been hindering traffic movement.
Similarly on C. P. Ramaswamy Road, in front of Coffee Day a large tree was damaged at its roots (seen in photo). This occurred when the civic body had dug up this part of the road to lay the drain.