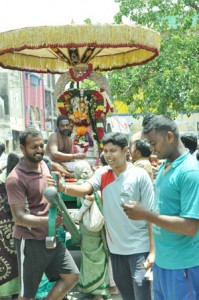 Karpagambal valaikappu was held on the occassion of aadi pooram, in Sri Kapaleeswarar temple, on July 23.
The image of Sri Karpagambal was decorated with garland made of flowers and coloured glass bangles.
This image was taken in a procession through the four mada veedhis around the temple, in the the morning.
Inside the temple, the mandapam was decorated with toranams made of glass bangles tied together.
Women were seen distributing coloured glass bangles, turmeric pieces, kumkum, and betel leaves with paku.
Around 150 people were waiting in a queue for their turn to have darshan of image of Sri Karpagambal in the main sannadhi.