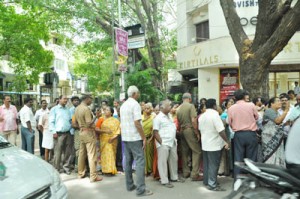 About 30 residents from Bheemanapettai 2nd Street staged a protest today morning, July 25 at C. P. Ramaswamy Road, Alwarpet.
They expressed their anger on the frequency of power cuts in their area for over 2 months. They wanted the area engineer to take a proper action on this issue.
So groups of residents came out on C. P. Ramaswamy Road near Kirtilal jewellery and blocked traffic. Police intervened to avert chaos and pacified the protestors.
We are having continuos power cuts for the last two months, said a resident.
The cables catch fire and the TANGEDCO workers who come to repair it often take money from us. Moreover the work is not properly done, they say.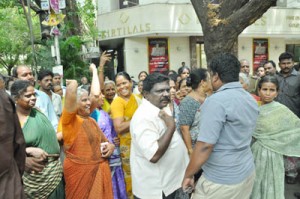 This is school time and most of the nights we don't have electricity here, says another resident.