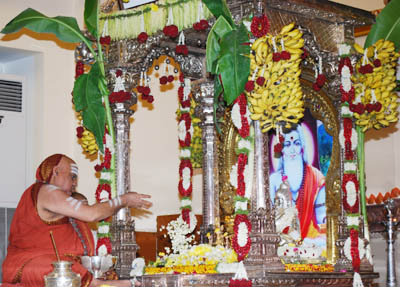 Jagadguru Shankaracharya Sri Bharati Tirtha Mahaswamiji of Sringeri, undertook the chaturmasya vrata sankalpa at Chennai on July 3.
Vyasa pooja was performed. The devotees chanted verses, affirming their support to chaturmasya vratam.
The Sringeri Jagadguru is observing His 38th chaturmasya vratam, in the city at Sudharma, 124, Dr. Radhakrishnan Salai, Mylapore.
From time to rime, during his stay here, he will give public darshan  from 10 a.m. to 12 noon and from 5.30 p.m. onwards. Prasadams will be distributed in the morning.
Sri Saradambal Chandramouliswara pooja will performed daily.
There will also be vocal and instrumental concerts by leading musicians.
The Jagadguru recently toured various places in Chennai, as part of his Daskshina Bharatha Vijaya Yatra.
He reached 'Sudharma' on the evening of July 1.