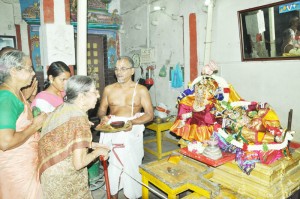 Sri Andal Thiruvadipura Utsav was held at Sri Madhava Perumal Temple.
This was held on evening of July 22.
The image of Lord Madhavan was laid on Andal's lap (sayana thirukolam).
Around 2000 people took part in this occassion says Marimuthu, office assistant of this temple.
Peolple were seen waiting in a queue to have a darshan of the image.
Tulsi and milk were distributed as prasadam.
For details call 2498 5112.