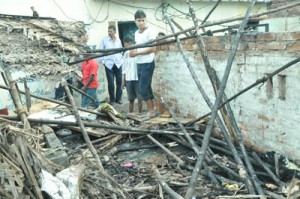 A fire in the coastal colony of Srinivasapuram, off Foreshore Estate on Thursday night  (Aug.30) destroyed over 200 huts and homes.
The fire was noticed at about 9.30 p.m. and it quickly spread on what was a windy night. No fatalities were reported though many families lost their belongings.
Some people here said that there was a delay in the arrival of the fire engines.
Srinivasapuram is located at the far end of Foreshore Estate area, on the fringe of the Adyar river estuary. The fisherfolk are now a minority since shacks and houses have been rented out to people who work in the city, including a large number of migrant labour.
Saidai Duraisamy, Chennai Mayor, Rajalakshmi Prabhakaran, the Councillor, and Mylapore  MLA visited the place.
The Councillor visited the place on morning of August 31. She spoke to the people whose houses were affected.