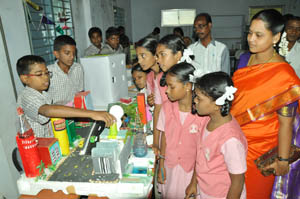 P. S. High School, (North) at Mundakakanni Amman Koil Street conducted Science Exhibition 2012 – 13 on August 30 and 31.
The exhibition was inaugurated on morning of August 30.
R. Venkateswari, Assistant Professor and Head of department of Biochemistry, Vels  University, Pallavaram was be the chief guest.
It took place in one of the class rooms of the School.
Around 50 different Science experiments and projects were on display.
Students were seen explaining the projects to the viewers.
"Students from 6th Standard to 10th Standard have organised this exhibition." says Shoba, a teacher in department of Science.
Students from Savithri Ammal Oriental Hr. Sec. School  were seen viewing the exhibition.