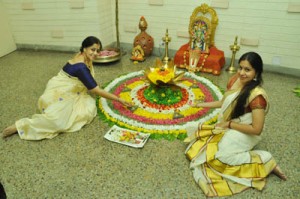 The 10-day festival of Onam ended with a grand celebration on August 29 with simple religious function, decorative pookalams at the doorstep and some elaborate cooking for this occasion.
We visited a few Keralite families in the Mylapore residents to find out what topped their menu for the day and what had kept them creatively engaged on Thiruonam.
Shoba Ravishankar a resident of Suhrudaya, 6th Cross Street, CIT Colony, Mylapore had designed a large pookalam.  This year she had titled her kolam as Pushpita meaning blossoming or blooming.
It was a 3D pookalam with 10 concentric circles to mark the ten nakshatrams from Hastham to Tiruvonam in different colours, she said.
Flowers used in the pookalam were Arali, hybrid roses, button roses, malli, maru and marikozundu, samandhi and leaves.
"We have a Dasavatharam doll to mark vamana avathar and a giant Vishnu Patham or foot print asking for the third piece of land to King Mahabali," she said.
At the entrance to her house, she had placed  wooden footwear implying Vishnu's entry into their house.
August 29 also marks Lakshmi Hayagreevar's Jayanthi, she says. In those days children used to pluck flowers from the neighbours garden and make the pookalam, but nowadays we need to buy them from vendors," she says.
The family prepared pallum pazhamum, sweet aval, nendram pazza norukku, chakkai varuval as offering to the Lord.
An elaborate Onam sadhya is normally cooked with aviyal, papadam oolan, pulli inji, paal payasam and gothumai pradhaman, she added.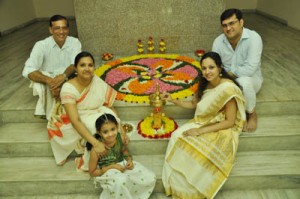 At the residence of the Sitaramans in Greenways Road, the family had designed a large pookalam at the entrance of their apartment.
The Thirkkakaraiappan was also set amongst it. This symbolic of Lord Vishnu and is depicted with three sticks, says Sitaraman.
"Our native is a village in Trichur and there is a Thirkkakarai temple for Lord Vishnu," he says.
Another small pookalam was designed in the apartment. "Normally this pookalam is designed by the children of the family. The elders only help in cleaning the flowers," he says.
The family had prepared the onam sadhya with 18 food items.
The speciality here was the paaladai pradham (payasam). This is made with milk and rice. "This is a must for onam," he says.
Another favourite at Onam time is the adai pradham, he added.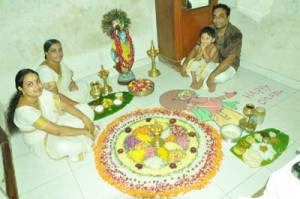 Prajeesh's family residing at Mylapore prepared a large rangoli featuring the image of King Mahabali. This was created beside the pookalam.
"This symbolises the fact that the king is invited to our house to eat here," says Prajeesh.
The family offered prayers to Lord Krishna and offered prasadam of paniyaram and ghee adda.
Later, the family prepared the Onam sadhya meal of 16 items for lunch. On the menu was rice, sambar, rasam, curd, papadam, kuttu curry, avaiyal, pullinjee, kallan, olan, ghee adda, adda payasam and upparhe (pooriyal).
"The speciality is that all the food is cooked is made using coconut as its base," says Prajeesh.