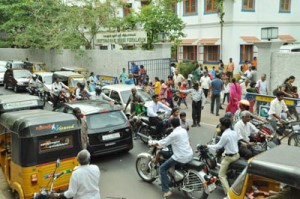 The traffic movement outside Hari Shree Vidyalaya School in R. A. Puram is creating chaos when the school opens and closes for the day.
Eversince the strength of the school increased, the issue has compounded.
More so when Srinivasa Avenue Road is a 'one way' road with traffic from the C. P. Ramaswamy Road side headed to Adyar directed on this road.
Also, another school is located here.
Many Mylaporeans here have raised the issue and are now making it public, off and online.
Meenakshi, a resident of Srinivasa Avenue Road writes to say that the chaos "affects the residents by the continuous blowing of horns."
Inspite of continuous reminders to this school, no action is taken by the school, she adds.
The residents of Sowbaghya Apartments, Srinivasa Avenue Road, R. A. Puram have also made formal complaints.
Last week, a e-mail came into the Mylapore Times office, signed on behalf of the Associations of the following apartments located opposite to Hari Shree Vidyalaya School on Srinivasa Avenue Road 1. May Flower Gardens 2. Srinivasa Apartments
3. Sowbhagya Apartments 4. Aiswarya Apartments 5. Mookambikai Apartments
It stated that Srinivasa Avenue Road is now the main road of commute between Adyar and Alwarpet and vice versa. Greenways Road is one way from Adyar to R. A. Puram and that the school is causing heavy traffic jams both in the mornings and afternoons.
"Parents and students of the school park their vehicles along the school compound. We have informed the school management many times to use alternate routes on the other side of school but no one seems to listen Traffic police have now created a 'No Parking' zone along the apartments and school as 'No Parking'.
"We personally saw traffic police booking many residents for parking their cars beside their apartment on the main road.
"These apartments are old and they also don't have sufficient parking inside but residents are now complying to parking rules."
Clearly, this is a issue that needs immediate attention since road rage is also showing up now and then.