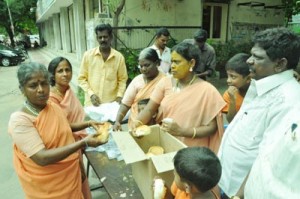 Thousands of pilgrims walked from their homes across the city to the Annai Vailankkani Church Shrine in Besant Nagar, south Chennai on August 29, Wednesday.
The flag hoisting ceremony and Masses were held at the shrine and it signalled the start of the period for prayers, novenas and Masses which will lead to the feast which celebrates the Virgim Mary as Annal Vailankkani. (This shrine is modelled on the shrine at Vailankkani, near Nagapattinam in south Tamil nadu).
The pilgrims headed to Besant Nagar through the main roads of the Mylapore neighbourhood.
Those who reside in the eastern part of the city took the Marina beach road and Royapettah High Road and Ramakrishna Mutt Road  while people who live in Alwarpet and Nungambakkam zones trekked it down TTK Road and C P Ramaswamy Road to head to the shrine. They were joined by pilgrims from R A Puram and Luz and San Thome.
It began as a trickle early in the morning and grew after lunchtime and the numbers were huge in the evening. Rush hour traffic in the evening had to slow down as the pilgrims walked down one side of the roads.