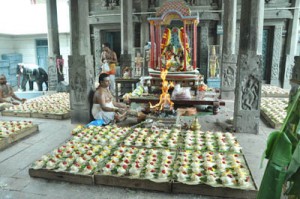 Sadayam kumbhabhisheka thirunatchatram sangabhishekam was held at Sri Kapali Temple on morning of August 31.
The occasion being the natchatram in which kumbhabhishekam of the Temple took place.
1008 counches were used to perform abhishekam to panchamurty.
Panchamurthy include images of Vinayagar, Valli Devasena sametha Singaravelan, Dakshinamurthy, Sivan and Ambal.
Special pooja and deepa aradhana took place. Earlier, the kumbhams was taken in procession around the temple.
Around 120 people were seen assembled at the mandapam.