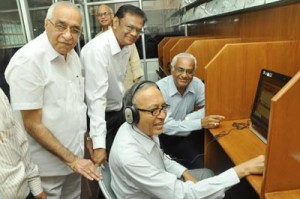 Are you a hardcore Carnatic music rasika or student? Here is a window where you can enjoy time listening to the music of the masters of Carnatic music, from Ariyakudi to MS.
The local branch of Bharatiya Vidya Bhavan on East Mada Street, Mylapore has joined hands with the TAG Music Archives project to create a space where you can listen to vintage music and concerts of the bests of today.
For a fee of Rs.200, you can step into a cabin where you can sit down, put on the ear phones, choose from a huge choice of Carnatic music that is digitized and sit back and enjoy it. The facility is open in the evenings for now.
This unique facility was launched on Sept. 12 evening by N. Murali, President of The Music Academy here. For now, the facility offers over 1000 hours of music of the masters.
And if the facility gets a huge response, it could be expanded.
Officially, this is an initiative by TAG and by the man who heads this business corporation, R T Chari. Chari joined hands with The Music Academy, shared his  huge collection of music on all kinds of formats and after digitization, launched the TAG-Music Academy Archives in 2008.
Now, this project has been shared at ten centers.
This week, Bharatiya Vidya Bhavan launched the facility in what is certainly a central space for rasikas. Chari, an engineering grad and successful entrepreneur runs the TAG Centre on TTK Road, Alwarpet.  He hosts lectures, concerts and lec-dems at this space which is also rented for social events.
At Wednesday's launch event, Chari went down memory lane recalling his junior school days at Lady Sivaswami Aiyar School, then at the 'dadi vadyar' vidyalaya near Magollai and then at P S School, Mylapore.
"Who can forget the rose milk sold at Kalathi's!" he recalled, to explain why he was happy to set up the archives in the heart of Mylapore.
BVB's Chennai kendra chairman L. Sabaretram and director, K N Ramaswamy have led the execution of this project.
You can contact the Bharatiya Vidya Bhavan in Chennai at 91-44-24643450