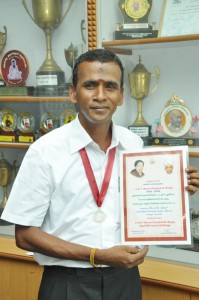 Teachers from neighbourhood schools also received Dr. Radhakrishnan Best Teacher  State Award on September 5.
Three teachers are profiled here –
Dr. S. Gnanasekaran of P. S. High School (North) received the award for teaching in this school for 23 years.
Currently, he is a Social Science teacher for 9th and 10 standards.
He holds a doctorate. He has done MA in History, MA in Economics and  M. Ed. He is a resident of Arakkonam.
Sister Arokiyamary, Headmistress of St. Francis Xavier's Middle School, Alwarpet received this award (below left).
She is a teacher for all subjects. She has been in this school for 2 yrs. For 30 yrs she has been in the teaching profession.
For 16 years, she served as Headmistress of R. C. M. Primary School in Arakkonam. She is a B. A. M. Ed.
Sister Dr. Nesa Soundaram, Headmistress, St. Antony's Girls Hr. Sec. School, Mandaveli also received this award (below right).
She is M. A. M. Ed, M. Phil. Phd. She has 30 years of experience in the field of education and is a resident of Mandaveli. She is now serving as Headmistress of the school on Madha Church Road from June 2010.
She has served in various schools in Thirutharaipoondi, Thanjavur, Mannargudi, and Madurai.