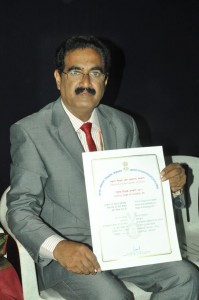 G. Pandian, the Principal of Sir Sivaswami Kalalaya Higher Secondary School, Mandaveli was awarded the National Award to Teachers in New Delhi on September 5.
The award was presented to him by Pranab Mukherjee, President of India.
Pandian says his experience of being with the President and the Prime Minister of India at Rashtrapati Bhavan is vivid.
"We were given written orders on what we had to do. Nobody was allowed to speak with the President and the Prime Minister," he says. "On Sept.4, the decorated teachers met Prime Minister Singh. We got to take a group photo with him. He hosted a breakfast for us though he didn't join us."
The lunch for that day was hosted by Kapil Sibal, Union Minister of Human Resource Development.
"We were then given a tour of Rashtrapati Bhavan and it was wonderful," says Pandian.
He has been teaching for the last 28 years.
Pandian began as an Asst. Prof of Mathematics in a college.
He joined the CBSE Board of Sivaswamy Kalalaya and later, was transferred to the High School as the Co-ordinator.
He has been the principal for this school for the last four years.
He was previously awarded the Dr. S. Radhakrishnan's Award (2009 – '10) by the state.
On Sept. 10 a felicitation function was organised by The National Boys' and Girls' Education Society which run the Sivaswami group of schools.
The event was held at R. K. Swamy Auditorium.
You can reach Pandian at the school at 2495 7950.