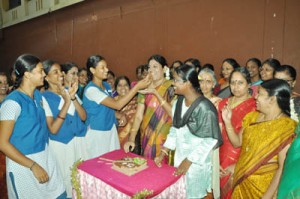 September 5 was a special day for teachers. Special functions and celebrations were held at all local schools to honour them. In some of the schools the PTA was also actively involved in the events.
Here is reportage of events that took place in some neighbourhood schools.
The Parents Teachers Association of P. S. Senior Secondary School, Mylapore organised a small function at the school's premises. The teachers were welcomed with sweets, flowers and gifts. Lakshmi Srinivasan, Principal, who has completed 25 years of service, was honoured by the PTA with a memento. She also planted saplings. As a gesture to their teachers, students of classes XI and XII handled the classes for the day.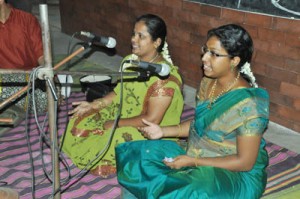 Classical music was in the air at P. S. Matric School. Music teachers B. Jaya and Indupriya presented a Carnatic concert.
A picture of India's former president, Dr. Radhakrishnan was sketched on the black board placed at the school gate. The primary students performed dances while the senior students enacted a play – to amuse their teachers.
At Rosary Matric School, San Thome, the school management presented gifts to the teachers.
Students came dressed in coloured clothes and wished their teachers with flowers. They also presented cultural events for them. A special lunch was arranged for the teachers.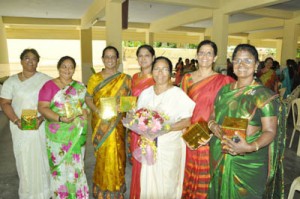 The scene at San Thome High School was very sporty. A basketball tournament was organised between the teachers and the Montfort Brothers who run this institution. Students of San Thome and Montfort School had the opportunity of seeing this fun game. This was followed by cultural events.
Lions Club of Technocity honoured 36 teachers of St. Antony's Girls Higher Secondary School, Mada Church Road, R. A. Puram. They were honoured with a shawl, a certificate and a memento by the District Governor R. Palamalai. This was followed by a dental checkup camp for the students of the school.
At P. S. High School, Mylapore it was time to share stories.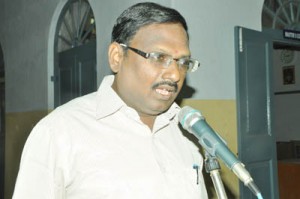 The man who did it best was senior Tamil teacher, J. Chockalingam. He narrated a few stories on Dr. Radhakrishnan to the students who gathered around him.
It was partytime at Lady Sivaswami Aiyyar Girls School, Mylapore. School Headmistress Ruby Poothota cut a cake on the occasion and shared it with teachers. The students enacted a play and performed cultural events. Teachers were their guests.