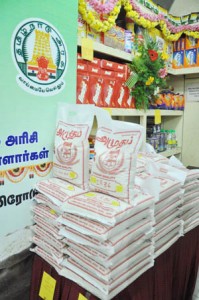 Two varieties of Puzhungal (boiled) rice, equivalent to IR 36 category will be now sold through "Amudham," retail outlet of the Tamil Nadu Civil Supplies Corporation, and cooperative societies.
R. Kamaraj, Minister for Food inaugurated this on Sept.15 at the outlet in C. P. Ramaswamy Road, Alwarpet.
This super fine variety rice is priced at Rs.31 for 1 kilo and Rs.155 for 5 kilo, another category IR36 is priced at Rs.25 for 1 kilo and Rs.125 for 5 kilo.
A new brand of tea, Indco's Tea (Ooty) has also been introduced here. This is priced at Rs.13 for 100 grams.
These will be available at all the "Amudham" outlets across the State.
The government has bought out this scheme to beat the increasing price rise in the market.