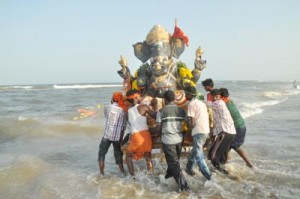 Several images of Lord Vinayakar were immersed at Srinivasapuram beach near Foreshore Estate on September 23. This place was the immersion point in the city.
Images both big and small were brought in lorries and carts  to this beach.
San Thome High Road was filled with devotees who wanted to immerse the images of Lord Vinayakar into the sea.
A big traffic jam was seen from Mada Church Road in San Thome High Road to MRC Nagar. Police was regulating the traffic here.
Coast guard was also patrolling the area in the helicopter.
The immersing of the deity's images follows the Vinayakar Chartuthi festival that took place on September 19.