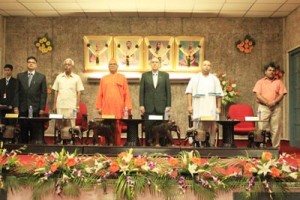 The Student Body of Ramakrishna Mission Vivekananda College (Autonomous) had organised an International Conference in their college on the September 7.
Students present papers on the theme "Challenges and Issues of Emerging Economies in the Economic Order for Developing the World Economy". About 90 participants presented their papers.
In the panel were Hon. Consul of The Republic of El Salvador, Dr. Yashwanth Kumar Venkatraman, Jeff Mazzini, Managing Director of AAMC (Australia), Ravi Subraman, Head India Operations of AAMC (Australia), Soma Valliappan and CA M.R.Vekatesh.
The conference was inaugurated by the H. E. Dr. Ruben Zamora Rivas, The Ambassador of El Salvador.
The valedictory session was presided by Takayuki Kitagawa, Deputy Consul General of Japan.
The Souvenir and Journal with the abstracts and the articles of the participants were released respectively by our Chief Guests.