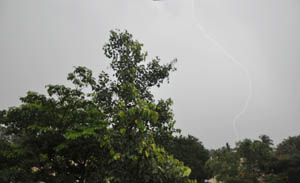 It rained in Mylapore areas in the evening of  Sep.26. 4 p.m. onwards
The sun went behind the clouds. Then, heavy winds followed and then came the rain – there were thunder showers and lightning.
Pools of water formed on roads which have been dug up or badly maintained.
Traffic jams were seen on C P Ramaswamy Road, Alwarpet.
"After experiencing humid conditions for the past few days, it was a great relief to have these showers." said D. Sundaravaradan, a resident of Chirtakulam West Street, Mylapore.
"I was traveling when the lightning struck and the wind was strong and so I parked my vehicle under a tree and went home, " said Prabha Suresh of Abhiramapuram.
"I was driving my two wheeler and suddenly the wind started blowing and the garbage on the road flew on me. I was unable to drive my vehicle properly." said another resident of K. B. Dasan Road.
Zaheer Ahmed, of Papanasam Sivan Salai, San Thome said that the drizzle began at about 5.30pm and it was windy.
<< To view the video of rain at C. P. Ramaswamy Road click here >>