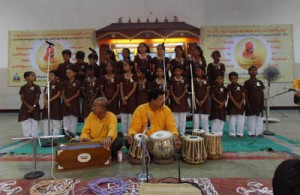 Madras Youth Choir (MYC) paid a musical tribute to the memory of Tamil writer-painter-philanthropist R. Chudamani on the second death anniversary.
It was organised under the auspices of the R. Chudamani Memorial Trust, the event, "Remembering Chudamani", on September 16 at the Ramakrishna Mission Students' Home, Mylapore.
The programme was presided over by Dr. V. Irai Anbu, I.A.S, along with Dr. K.S. Subramanian, one of the founding members of MYC and a former student of Ramakrishna Mission Students' Home.
Members of the Sub-junior wing (seen in photo) comprising children in the age group 6- 9 years, made their stage debut with an Indian music titled "Sa sa sa endru shadjamathil paadu". This was followed by Subramania's Bharathi's "Odi vilayaadu paapa" and  "Jayaberikai Kottada", sung by members of the  Junior Choir, comprising children in the age group of 10-15. The senior members of the choir sang after them.
Each of these songs was introduced by D. Ramachandran, Secretary, MYC.
MYC invites children to join its newly-formed Sub-junior wing. Practice sessions are conducted at Children's Garden School, Mylapore for the Senior Choir. For further details, please call Gayathree Krishna at 94440 49492 or Kalavathy Krishnamoorthy at 94449 30517.