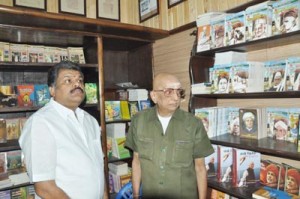 Alliance Company based in Mylapore had opened its renovated premises today, Sept.28.
Union Minister G. K. Vasan inaugurated the showroom.
Present for the occasion was 'Cho' Ramaswami, actors Sivakumar, S. V. Sekhar and theater actor T. V. Varadarajan.
Alliance Company is one of the oldest publishing houses in the city. It was started by V. Kuppuswamy Aiyar and is now managed by his grand son V. Srinivasan. The house has now completed 112 years.
It is located at 244/64, R. K. Mutt Road, Mylapore.