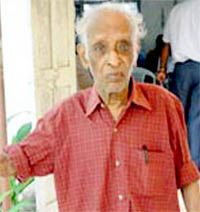 Senior Tamil comedy actor 'Loose' Mohan passed away on Sept.16. He was 84.
He was a resident of Salai Street, Mylapore.
His real name was A. Mohanasundaram. He was born in Kancheepuram and his family moved to Chennai when he was young. His father was  'Loose' Arumugam and has acted in a few Tamil films
Mohan made his debut at the age of 16 in a Tamil film Harichandra in 1944. He has acted in over 1000 films and has shared screen space with leading stars, including Rajinikanth and Kamal Haasan.
Mohan was well know for his dialogue delivery in Madras Tamil and was conferred with the Kalaimamani Award in 2000.
He is survived by a son Karthik and three daughter Revathy, Geetha and Lakshmi.
Photo courtesy news.chennaionline.com