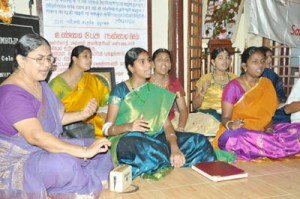 Gandhi Peace Foundation, Madras had organised Gandhi Jayanthi celebration at Ambujammal Street, Alwarpet.
The inaugural address was presented by Dr. Sarojini Varadappan, President, Women Indian Association.
Students of Padmaja Vasudev presented a carnatic concert.
The students of Stella Maris College presented paper presentation on various themes.
Dr S.Muthukumaran, Former Vice-Chancellor, Bhatatidasan University, released the book 'Saanthanai Chutri en Vandugalaai Moikkindranar?'.
Several programs and events have been arranged here for the day. For more info call 2499 3839.
<<To view a video on the event click here>>