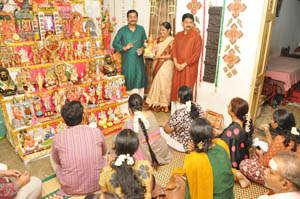 The Mylapore Trio of Sri Sumukhi Rajasekharan Memorial Foundation organised Navarathri Kolu Paddhathi on Oct.6.
It was held in Mandavelipakkam.
It was a lecture demonstration on the know-how of putting up a Kolu during Navaratri.
The topics ranged from aesthetic arrangements, decorations, themes, kolam, to packing and preservation of the dolls.
In the past, the Trio have arranged kolu in various temples in the city including Sri Kapaleeshwarar Temple, Sri Parthasarathy Temple.
The Trio have been invited to Sri Meenakshi Amman Temple, Madurai this time.
Surendranath, one of the Trio, shares 2 tips here- Ceiling decoration is a must. Traditional dolls of marapachi should be included.
<<To view a video on the Trio giving 9 tips on kolu click here.>>
<<To read 'Useful leads on Navarathri' click here.>>
<<To know about the events arranged in the neighbourhood for Navaratri click here.>>