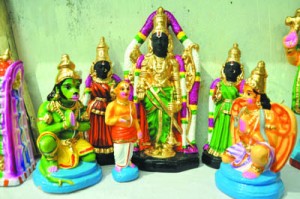 To help you as you plan for a great Navaratri, here are a few leads that will make life easy for you.
(Please mail us your own suggestions too- mytimesedit@gmail.com)
BUY MORE DOLLS:
Mada veedhis of Mylapore are best spaces for random checks.
Sri Jyothi Handicrafts sells Krishna Leelai and Hare Rama sets of dolls from Kolkata at North Mada Street.
B. L. T. Stores, North Mada Street has clay and papier mache sets of kolu dolls from Rs.500 onwards. Single papier mache dolls start at Rs.300.
Dolls have just got stocked at Madras Sarvodaya Sangh, Khadi Vastralayam, 80, R. K. Mutt Road, Mylapore. Ph: 2464 2365.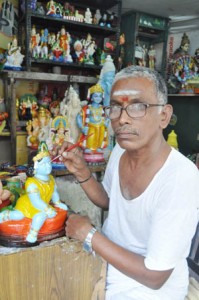 REPAINT THE DOLLS
S. Paramasivan can help you with this. He is at 52, Chitrakulam West Street, Mylapore.
He repairs and repaints dolls. But he is overloaded with orders but will help if you bring one or two dolls. He can be reached at 98419 45161.
Click here to see a video of this painter.
HEAD TO THE SALE:
Thavish Handicrafts has a sale of Kolu dolls at Sri Sankara Hall, 281, TTK Road, Alwarpet. On till Oct.8. Open till 9.30 p.m. On display are Channapatna, Kondapalli toys, Marappachi bommai and items made of Brass, Black metal, Radium.
C. P. Art Centre, Alwarpet has a sale. Buy dolls from Kondapalli, Ettikopakka, Chennapatna. There will also be dolls of Terracotta, clay, cloth and wood.
QUICK BUY: KOLU STEPS
Asia Steel Industries at 81, Kutchery Road, Mylapore (near Mylapore Post Office) sells kolu padi. You can get 3, 5 and 7 padi-stands here. Ph: 4210 1847. Sri Kapaleeswarar Stores 49, South Mada Street, Mylapore. Ph: 2464 3058. Iron-steel stand on sale here.

SHOP FOR STUFF:
Tambulya at Dr. R. K. Salai offers Teracotta-ceramic diyas at various prices for bulk orders. Kubera villaku at Rs.40 each for a bulk order of minimum 100 pieces.
Indra Brass Pooja Metal Stores 6, Sannathi Street, Mylapore. Ph: 2495 4245/95434 17585. Gift items starting from Rs.10 onwards, plastic framed white metal shield of image of Gods at Rs.10. They need 24 hrs notice for bulk orders.
Sri Karpagambal Stores in Mylapore sells LED serial lights – 6 mts at Rs.35 onwards. Tambulam bags made of paper, cloth. Metal kolu stand. Decoration items made of shining craft paper. Manjal kumkum boxes and sets including mirror, comb. Prior notice must for bulk orders. Ph: 4206 9760/ 98841 86357.
Banco Agencies, 84/167, Kutchery Road, Mylapore. 2467 1454. Wholesale shop for donnai made of mandarai leaf, foil, thermocol and paaku mattai (Supari leaf). Non-woven bags in both printed and non-printed versions.
Diamond Electricals 73, Kutchery Road, Mylapore. 2495 4646. LED Serial lights available from Rs.60 onwards.
Vijaya Stores 42,78, North Mada Street, Mylapore. 2464 2500. Baskets from Rs.10. Gift items, blouse pieces, plastic plates. Manjal kumkum sets, artificial decorative flowers.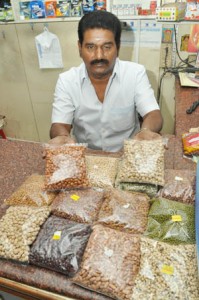 ORDER FOR SUNDAL, GOODIES:
Mami Tiffin Stall at Pitchu Pillai Street undertakes bulk orders for Navaratri. You can order varieties of sundals. 24 hr alert must. Ph: 9840272288, 94440 71656.
Sundal orders also taken at Sri Annai Sarathambal Catering, R. A. Puram. Ph: 94453 44367/ 94454 36820. 24 hrs notice must.
Varieties of danyam sold at Amsu Stores, 23, Madhava Perumal Koil Street, Mylapore. Ph: 2498 2243.
Different varieties of danyam available from Oct.10 at Sri Krishna Stores at 4, Venkateswara Agraharam Street, Mylapore. Ph: 2461 0346.
Please mail us your suggestions to mytimesedit@gmail.com