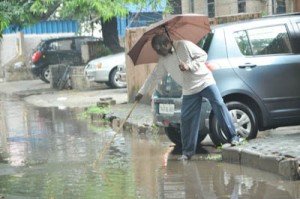 The monsoon broke out this past week. And neither Chennai Corporation nor Metrowater has prepared the neighbourhood to face it.
The evidence was on the roads and streets. Water-logging.
The photo on left was taken in Vishwespuram, Alwarpet.
Further, the sloppy, half-done or abandoned stormwater drains worsened the condition.
The second photo is of an avenue tree which collapsed on C. P. Ramaswamy Road, Alwarpet. Its root system was severely damaged when the drain-relaying work was undertaken.
Another one also collapsed in R. A. Puram near Billroth Hospital.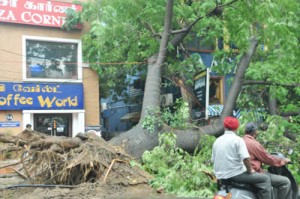 Many trees on this road are bound to collapse this season.
<<  MYLAPORE TIMES will closely report the civic conditions this season. Readers are invited to join the reportage with photos and short reports. Mail to – mytimesedit@gmail.com