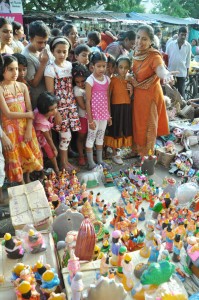 About 25 curious people gathered at the gate of Indian Bank on North Mada Street last Sunday for the Navaratri Heritage Walk that Mylapore Times and YOCee had organised.
Children, parents, a few grandparents and photo enthusiasts were part of the group that walked down the street.
The group followed R. Revathi from one stall to the other listening to stories on the dolls on sale and their place in a kolu.
Many children knew  the mythological stories related to the sets of dolls.
Some of the participants, travelled from as far as Virugambakkam for the walk. Dr. Preethy who came with her daughter said she enjoyed the stories as her child joined the narration.
Aditya and his younger sister Akshaya, both students of Sri Sankara Senior school were keen observers and said they found the different versions of stories in images.
The images of Lord Krishna attracted the children the most. The workmanship of the hand-made terracotta dolls from Kolkata were appreciated by the seniors.