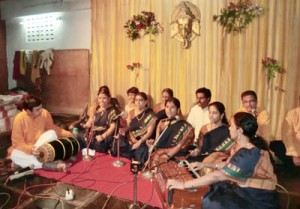 As part of the Navarathiri celebrations, Karpagam Avenue Sath Sangh has organised music and dance festival at Karpaga Vinayagar Temple in MRC Nagar, R.A. Puram.
The fest was held from Oct. 15 to 24.
Many young artistes participated in this fest.
Among the participants were Dr. Sudha Raja's Suswara School of Music and Akshayam, Bank of Baroda choir group.